TACTIS Walk is designed to provide mechanical vision for the visually impaired person. This portable device processes the image from the USB camera and displays it on the GTD (Graphic Tactile Display).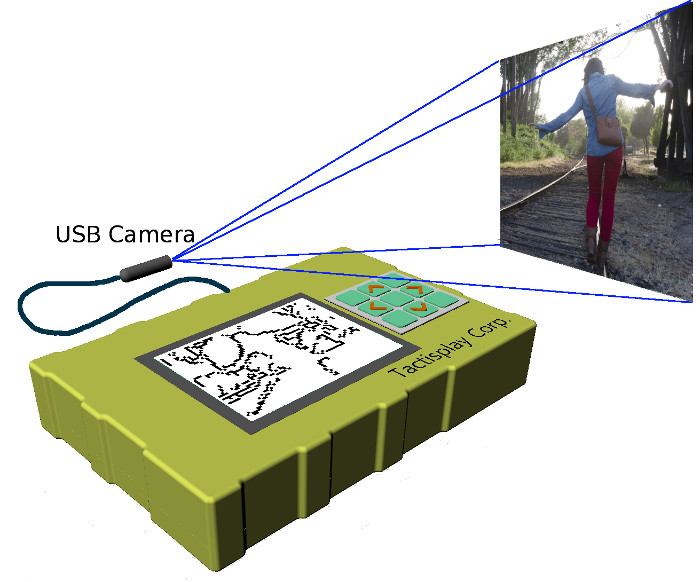 The screen layout is composed of 40 rows with 60 dots, totaling 2,400 dots. This product is a scanning type braille display. (Please refer to the Frequently Asked Questions page for the structure of the scanning driver.) Since this product has few parts, it has low failure, light weight, low power consumption, and low cost. The screen update time is 8 seconds. That is, new images can be updated every 8 seconds.
If used for text display, 2,400 dots are used as 10 lines with 20 braille cells each. It can be driven by NDVA S/W and can display 5 times more information on one screen than a normal 40-cell braille display. You can also display a table with multiple lines.
This device can be used for 10 hours after the built-in battery is fully charged. It is approximately A4 paper size and is 53mm thick. The total weight including battery is 2.5kg. When connected to a PC via Bluetooth, the TACTIS Walk works as a graphic monitor. When using the device alone (without a PC), the BRF file in the USB memory can be displayed when the USB memory is inserted. When a USB camera is connected, the live image of the camera is displayed.
Product specifications
Characteristics
Value
Graphic resolution
60 cols * 40 rows
Tactile dots
2,400 EA
Text braillle cells
20 cells * 10 lines = 200 cells
Tactile dot height
1.0 mm
Distance to adjacent dots
2.5 mm
Tactile pin diameter
1.2 mm
Tactile pin force
6 gf
Screen refresh time
8 sec
Dimension
295 * 195 * 53 mm
Weight
2.5 kg
USB port
USB camera
USB memory stick
PC connection
Bluetooth
S/W
NVDA (Windows XP or higher)
Battery type
Li-PO, 3S
Battery charging time
3 hours
Battery use time
10 hours
Power
less than 8 W
Adaptor power input
100~230 VAC, 50/60 Hz
Adaptor power output
12 VDC, max 2A
Certification
FCC, CE, KC
Operation when USB camera is connected
The captured image is converted into a bitmap image with 60*40 resolution.
Bitmap image output in GTD

Image processing
| | |
| --- | --- |
| Before image processing | After image processing |
| | |
Bitmap image output example
Bitmap images (60*40 resolution) are output to the device. A version with reduced metallic noise is available.
| | |
| --- | --- |
| Bitmap image | GTD operation |
| | |
Package
TACTIS Walk device
USB camera
Power adaptor
User manual
PC connection Bluetooth dongle
PC S/W installation media
Q: How long is the TACTIS Walk product?
A: We guarantee 500,000 page views. Within one year, malfunctions caused by problems with the display itself are repaired free of charge. Repairs from failure due to user's carelessness will be charged even within one year.
Q: Can I use the TACTIS Walk product while walking?
A: Yes. This product can be used while walking.
Q: Can I use this product in a car?
A: Yes. It's possible to use. However, if the temperature inside the car is higher than 50 degC (122 degF), it is recommended not to use or store it. In particular, the device should not be stored in a hot car in the summer. There is a risk of fire due to overheating of the battery. If there is a bulge in the device's plastic cover, it may be due to battery expansion. In this case, please contact us for repair.
Q: How to maximize battery life?
A: Batteries are consumables. It cannot be used indefinitely, and after a certain period of time, it must be replaced due to deterioration in performance. However, if you follow some precautions, the battery can last longer. First, do not continue to use the battery to the point it is full discharged. It is recommended to stop using and charge the battery if it is close to full discharged state.
Q: Can I replace the battery by myself?
A: There are no self-repairable parts inside the device. All repairs, such as battery replacement, are performed by our service center. Please note that the product warranty will be void if the user disassembles the device at will.