TACTIS 100 is a 100-cell text-only braille display. This product is the first text-only braille display released by Tactisplay Corp. It has 100 cells, but consists of four lines of 25 cells, which makes it shorter than common 40-cell braille display products. This display also features our scanning driver structure. As a result, this product has fewer parts, so it is economical, lower failure rate, light weight, low power consumption, and low cost. It even provides a lower price than common 40-cell braille displays.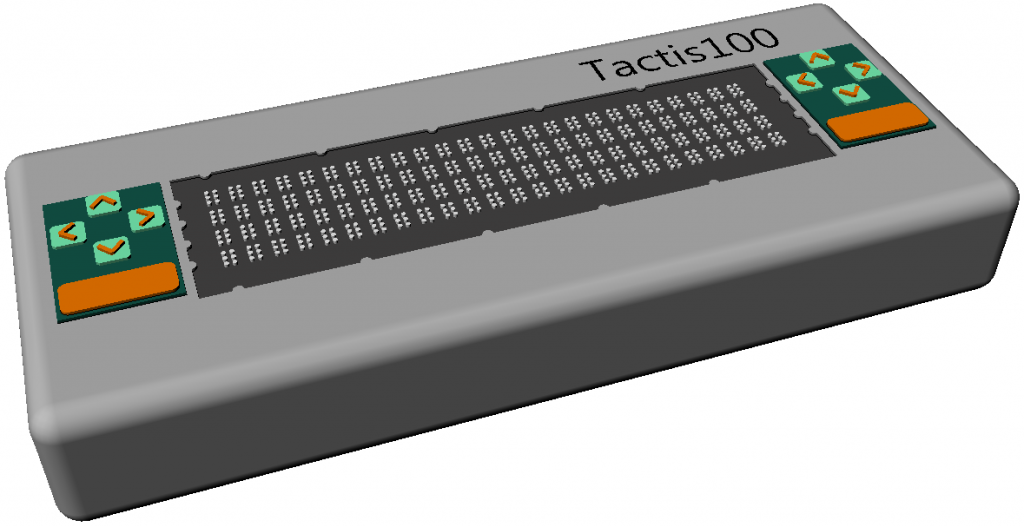 There are line position marks at both left and right ends of the display area, and cell position marks at 5 cell intervals at both ends of the top and bottom of the display area. There is no cursor key, but you can use the arrow keys attached to the front of the display to display the desired content.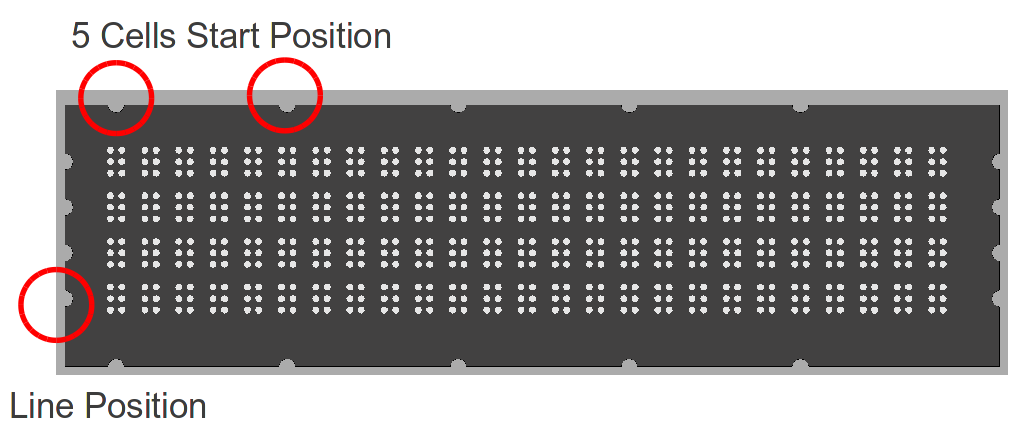 Page updates are executed in less than 5 seconds.
There is no battery inside this display, so you should always use it with the power adapter connected. When connected to a PC via Bluetooth, the contents of the screen are automatically displayed on the device through the screen reader S/W NVDA. When a USB memory is inserted into the device, the device displays the folder structure to the user, and through this, the desired folder and desired file are selected. The selected file, such as BRF, can be displayed.
Performance
The device refreshes the screen quickly with just two actuator bars.
Device specifications
| | |
| --- | --- |
| Characteristics | Value |
| Braille text cells | 25 cells * 4 lines = 100 cells |
| Tactile dot height | 1.0 mm |
| Distance to adjacent tactile dots | 2.5 mm |
| Tactile pin diameter | 1.2 mm |
| Tactile pin force | 6 gf |
| Screen refresh time | 5 sec |
| Dimension | 305 * 128 * 45 mm |
| Weight | 1 kg |
| USB port | USB memory stick |
| PC connection | Bluetooth |
| S/W | NVDA (Windows XP or higher) |
| Battery | None |
| Power | Less than 10 W |
| Adaptor power input | 100~230 VAC, 50/60 Hz |
| Adaptor power output | 12 VDC, max 1.5A |
| Certification | FCC, CE, KC |
Package
TACTIS 100 device
Power adaptor
PC connection Bluetooth dongle
User manual
PC S/W installation media
Q: What is the lifespan of TACTIS 100?
A: We guarantee 500,000 page views. Within one year, malfunctions caused by problems with the display itself are repaired free of charge. Repairs from failure due to user's carelessness will be charged even within one year.
Q: Can this device display graphics ?
A: No. This device can only display text. If you want a graphic display, you need to purchase a TACTIS Table or TACTIS Walk device.